"What exactly do you do when I'm not here, Elgie?" cried Detective Dalloway, somewhat aghast.
"I run around whimpering because you left. And pee-ing and poo-ing all over the office to ease my emotional pain".
"Yes, I can see that! But why? I told you I'd only been gone ten minutes in your time".
"A twentieth-century century dog wouldn't know you were coming back. I'm faking separation anxiety. I'm trying to blend in, don't you know?".
Elgie didn't like to admit that he had enjoyed it too. It wasn't Detective Dalloway's fault that her trusty canine sidekick wasn't able to travel between the inter-war twentieth century and their own twenty-ninth century like she could. But he didn't like to be taken for granted.
It had been a serious error to transport a talking dog through time in the first place. It had been his idea though, to accompany his mistress when she added a little spice to the slight boredom of their peaceful and plentiful anarchist future by chronoloping to 1928. But no dog had chronoloped before, let alone a talking one, and for some reason he couldn't get back. Not that they hadn't tried, but twice he had singed his dainty-but-distinguished beard in the failed attempt. They had agreed that he would wait behind in the twentieth century until their time-defying specialists could figure something out. So here he was, in a private investigators office in 1928, feeling rather guilty about the mess, truth be told.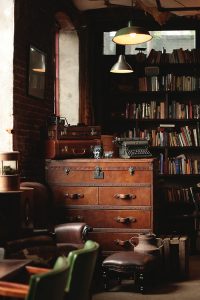 Deirdre, on the other hand, was having the time of her life, posing as a sleuth for hire. Not that she was actually all that interested in solving crimes. She was even less enthusiastic about following people around to see if they were having affairs and all that sordid stuff. After all, from reading and watching fiction-media from the period, it was clear that most P.I. adventures merely started with that sort of unpleasantness and that it quickly gave way to something far more interesting. In fact, she made a point of frequently failing to actually solve what she'd been hired for, and following Elgie's nose from the case itself towards something far more intriguing. As a result, she usually didn't get paid. It wasn't as though she needed the money; like several thousand other people from her future, she just liked dipping into the illogical chaos of the pre-anarchist world. Yes, she was a tourist, come to gawp and dabble, just because the version of the twenty-ninth century future she inhabited was, well, a little too neat and tidy. She was here strictly to have fun, but increasingly also to keep Elgie out of the sort of scrapes he got into when she left him to it…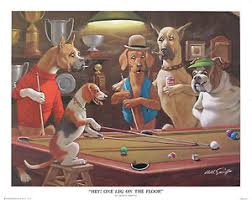 …Like that time when Elgie misunderstood a twentieth-century cultural reference and invited some dogs in a pub to dress up as people and play snooker. The dogs just lay there under tables looking bored, and after a while the barman had kicked him out anyway because he hadn't ordered anything and appeared to have just wandered in from the street…which he had. Luckily Detective Dalloway had that moment emerged from a basement where someone was pressing apples, and managed to persuade the barman against calling the Dog Catcher; it wouldn't be the last time Elgie would narrowly avoid the clutches of Mr Wellbeloved.